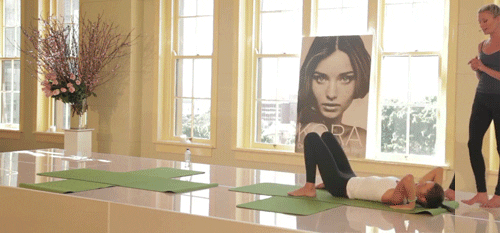 The problem of not being able to have it all because a day still only has 24 hours is often discussed on The Trophy. One way to better manage your life is to become really efficient – especially with the less comfortable parts. Whether or not you love working out (we unfortunately don't), this New York Times 7 minute workout is totally feasible, even for the busiest girl.
The workout comprises 12 exercises using only body weight, a chair and a wall. It is supposedly backed by scientific research but, to be honest, we don't really care if it is because it works!
The upside: it is only 7 minutes long (8 if you allow yourself a 10 second rest between the exercises). Repeat each exercise for 30 seconds. If you want to go all in then do three sets of 30 seconds each.
The downside: it should be performed in rapid succession. This means it will be rather unpleasant but, if you really want to have it all, then this is the cost.
Check out the website: 7-minute workout
Images: Giphy, New York Times