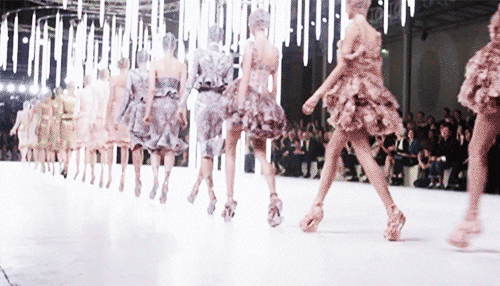 Whether we like it or not, the streetstyle circus has become a force to be reckoned with in the fashion industry. The crazy styles of Anna dello Russo, Adar Kokosar and Susie Lau are pretty inspirational and cool, but the term streetstyle has become somewhat ironic given the, well, impracticability of some of their choices. While we don't mind that, it sometimes feels like it has put everyone under the pressure of going in the same direction and that a simple jeans with a jumper is not enough. So, we thought it was time to discuss whether or not you have to give into #PeacockPressure to be chic or if the basics are still good to go.
Franca:  Normcore has made mum jeans and jumpers completely acceptable, but just for one or two seasons. I have a closet full of black jumpers and grey jeans and sometimes I think that buying more everyday basics will just make my look more and more boring. Not investing in trend pieces is something pretty natural for me. When would I wear them anyway? When you go to an office everyday, you don't have time for things to get too complicated in your wardrobe and it makes more sense to invest in well-fitted blazers or white shirts. Normcore has made this a bit easier to just, well, dress normally and still being able to justify an interest in fashion.
Fee: Working at a startup company in Berlin, I have the freedom to wear whatever I like to the office. However, every morning I find myself standing in front of my wardrobe thinking that, with my all-black-everything clothes, I am not really taking advantage of the freedom the comes with the "no dress code" at work. Am I dressing too boring? Is the 5th black wool pullover something you really need add to your wardrobe when being a fashionista? Is quality over quantity still the golden rule when you want to follow fashion trends but don't have an unlimited budget?
Franca: It is, pretty much. The other day, when I asked you whether I should buy that Isabel Marant jumper in light or dark grey (it became dark) I hesitated because it is such a boring thing to purchase. However, I am so much more comfortable in my dark and easily-matched French girl style, that I am too lazy to get out there. Although I know fashion is supposed to be fun to some degree, I am really never wearing that white flowery crop jumper from Acne. I do get your point about budgets, but is this not what Zara & co. are for? Experimenting with trends on a shoestring?
Fee: Yes, but the turnover of collections is too fast to keep up-to-date for me. Where has the seasonal collection gone? Who can keep up with what's hot and what's not if it changes monthly? I neither have the time nor a black Amex in my pocket but, anyway, I can't and don't want to redefine my style and wardrobe every month, even with stuff from Zara. My style is edgy and reduced to essential key pieces, and I will stick to that no matter what the trends are. Playing around with fashion is something to express how you feel, and I like that. But do tons of trend pieces from oh-so-trendy Zara make you happy in the long run? I'll always be the girl who feels most comfortable with the French and clean look. But adding some seasonal trend pieces, like some nice shoes or jewellery, is fun and I love to stay inspired by fashion through this.
Franca: I have found a bit of an outlet in party clothing. Investing in a few really good pieces, from golden gladiator heels to a super nice Kaviar Gauche LWD (little white dress) has proven to be a really good idea. I am not wearing these that often, but I don't have to feel guilty about it. Whenever I feel like I need a bit of glamour, I just throw on some nice party clothes and go out. They are a bit more timeless anyway. Otherwise, accessoires are key to adding variety to your outfits. Olivia Palermo has really taught us how to focus on accessoires – and she dresses in Zara as well. Overall, I think that whilst that there is so much pressure on us to be everything, the most important thing with clothes is that they complement your personality and make you feel beautiful and strong. If they don't do that, sell them on Ebay.
Image: Giphy