In 2014 close to 40% of French women bought their skincare products in pharmacies. Thanks to make-up artists, bloggers or skin specialists, the trend is now going worldwide. Combining clean compositions, efficient formulas and affordable prices, French pharmacy products are about to become an essential to every women vanity. Here's a selection of 10 products whom epitomize this new craze:
Water Mist by Avène Brume d'eau thermale d'Avène
First dedicated to sensitive or psoriasis-prone skins, this water mist is now a skincare must-have. Formulated with low mineralised and sterile water it can be used to soothe skin dryness or itching but also to freshen up the face at every occasions (sun exposition, pollution…). It fixes make-up and helps getting rid of lime water residues. It's sold in multi containments, from 300 ml to a 50ml travel/handbag size.
Bioderma Crealine (sensibio) H20
Probably the most recommended make-up remover by dermatologists. It's the first patented micellar lotion launched on the market and twenty years later it's still unrivalled. Based soap-free to protect the hydrolipidic film, it captures impurities and sebum without irritating the skin.
Embryollise concentrated milk cream / Lait-crème concentré d'Embryolisse
Made of shea butter, aloe vera and soja proteins, this body milk is a genuine "drink" for the skin. Present at every fashion shows, it's the skin saviour of many models, granted Karlie Kloss declared using it as a night mask. It can also be mixed to your foundation for an "airbrush" finished look.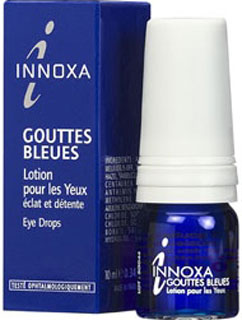 Innoxa blue eyes drops / Gouttes bleues d'Innoxa
Blue is known to soften yellow and red tones. This basic chromatics is the core of the Innoxa blue drops. It will help reducing the appearance of eyes vessels while adding brightness to them. Made with plants-distillated water, such as cornflower, hamamelis or camomile, it's the magic potion of eyestrain or long night parties. Be careful while using it, not to pill any on your clothes, since it'll be very hard to get rid of the stain. Lens compatible.
Homeoplasmine repairing balm / Homéoplasmine
Homéoplasmine is one of the most-striking example of cosmetic diversion given it's originally sold as a balm against skin irritations or burns. Applied as a mask on chapped or dry lips, it smoothes and heals them. It can also be used to tame capricious brows or as a very soft highlighter.
Body oils and soap range by Roger Gallet
Founded in 1862, Roger-Gallet House belongs to a long heritage of apothecary savoir-faire. Their colognes and soap are still made according to the ancient cauldron tradition. Sandalwood, fig-tree flower, almond or citron are ones of the many subtle fragrances to be found in Roger Gallet soaps, creams or dry-oils.
La Roche-Posay skincare and sunscreens products
Advised by dermatologists, La Roche Posay offers a complete range of products for all kind of skins. Its cold cream will nourishes dry skin, the Effaclar range helps getting rid of imperfection. La Roche Posay is also famous for its sunscreen Anthelios, combining both UVA and UVB protection as long as a special sunblock agent called Meroxyl.
Klorane Hair products
Mostly organic and silicon free the hair range of Klorane dedicates one plant to a specific result: Oat against dryness, Nasturtium versus dandruffs, while flax will take care of your flat hair. Produced in southern France, Klorane associates botanical and beauty for a unique experience.
Huile prodigieuse de NUXE
Contraction of "Nature" and "Luxe", Nuxe is mostly known for its dry-oil (bestseller in France), l'huile prodigieuse, a delicate combination of essential oils (macadamia nut, borage, camellia and more). For a better absorption it should be used right after shower. Exists also in glitter edition.
Caudalie Beauty Elixir /Eau de beauté
Caudalie is famous for its grapes peptides and polyphenols based products. Its Beauty Elixir is a stunning vitamin booster whom refreshes and tones. Meanwhile, it acts as a light serum and helps reducing the appearances of pores. The make-up artist Lisa Eldridge is one of its famous enthusiastic user. She advises to pat it on the skin with wide palms especially after a long-flight or an exhausting day at work.