This piece, in many ways, is intended to stop me from spending my entire savings on a Stella McCartney dress, some It bags and whatever else I can find in the vastness of Net-A-Porter & co. It is dark outside, I am completely overworked and I have been wearing jumpers and jeans for the last four months. I really, really need to buy stuff. The amount of time I spend online compiling wish lists of either the same black jumper I wear everyday, or some fancy pieces I could never wear at the office (which means, I will probably not wear them at all, as I basically live there), is insane. I have tons of clothes that I usually love. However, this weather and the stress I am under makes me not only want to shop, but to re-invent myself. To become a better person, a cool girl like MKA Olsen, a boho princess like Behati Prinsloo or just any other well-dressed person I can find on instagram. I feel annoyed by my old, boring self.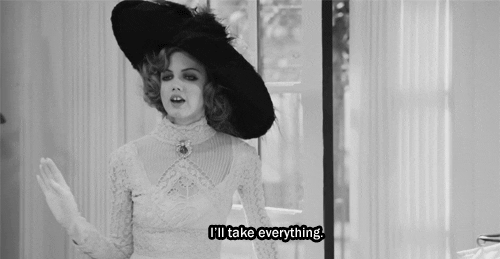 The obvious issue here is that shopping is not going to make me a new and better person. Buying stuff when feeling this needy is usually doomed to result in dresses I never wear or those awful Zara snakeskin heels I only wore once (to a costume party). My friend Ally constantly resells all of her clothes online and openly admits that she often goes shopping because she feels bad about herself. Retail therapy is her way of dealing with things. Luckily, Ally has enough self-control to indulge at Zara rather than MyTheresa. 
Why do we spend so much time shopping for another personality and life? Do we really think a new skirt is going to change our outlook on life? Especially when it does not even fit and makes you look pale?
The high of spending lasts only so long (hopefully not longer than the 14 days you can usually return things). Then, we have to face the truth again: our life is not an instagram feed. We have neither the time nor money to look like Leandra Medine and, most of the time, that is completely okay for us. Only occasionally do I get the urge to transform myself into a make over project worthy of Cher Horowitz; to change my hair, my walk, my laugh, my entire personality and swap it out for someone new, someone better. Maybe it is my resistance to documenting every aspect of my life that often makes me feel I am losing out to the people on social media. I don't have a single photo of my last and very romantic trip to Paris. When you're not sharing these things with everyone, it can be easy to forget about the great moments in your life. When I stop and think about this, my life doesn't seem so bad!
So instead of clicking the buy button on those Chloe heels, I decided to write this text, because actually, my inner riot is much better appeased by doing something that I love and being productive. What better way to become that awesome person I aspire to be than to work on it?! Writing might not be the cure for everyone, but going out and enjoying art, culture, running or working on one of the little projects that mean so much to you, whether its a website, a new bathroom decoration or your master thesis, will actually help you sleep so much better tonight.