Every morning I take the train to the office. It takes 30 mins to get there. Summed up, I spend an hour a day on the train, 5 hours per work week. That is half a day of work spent in a train, not being productive or doing things I like. This means around 20 hours per month, 240 per year, and I do not even want to think about decades or lifetimes now.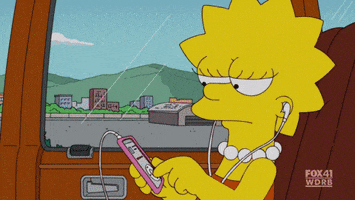 Sometimes these 30 minutes, especially after work, are the time I switch my brain from work to couch mode, listen to music and try to relax for a bit (this is not exactly possible when taking the train during rush hour and being jammed between strangers). After the first two weeks of my new job and not doing much on the train, I realised how much time I was wasting and so I decided to use these 60 mins a day in the most efficient way possible. Resolutions were made! Plans were developed, Japanese textbooks and Doris Lessing novels bought! Things obviously did not always go according to plan – I was sometimes too tired, sometimes too excited and sometimes there was just not enough space – but let me share my personal tips with you on how to make the most of your travel time to the office and back home:
Prioritize tasks of the day
I realised 30 minutes is a pretty decent amount of time to go through the tasks of the day and to prioritise them. This doesn't only help me structure my day but also ensures that I am prepared for anything that might come up. When I arrive at the office I can start working immediately and have my little To Do list ready. I also sometimes read and write emails, even without internet, I just write them on my iPad and as soon as I enter the building, five emails are sent out and I am arriving without any hassle.
Reading
This is a classic for a reason! Whether it is the newspaper, a good book or an article downloaded before, reading takes you away from the crowd and lets you relax and consume important information. Being aware of what is going on in the world and reading a good book are food for our brains and always make the commute a tiny bit better. Check out our favorite books for the commute here.
Code Academy
Nowadays, coding is part of most businesses and knowing a thing or two about it will likely help you to better understand those hairy aliens in the programming department. Except for one internet communication class, including HTML and CSS basics, my coding skills were pretty limited. I downloaded the app Code Academy to change this. Code Academy classes take around an hour, perfect for my two 30 minutes train rides a day. It is easy to use and and you will learn quickly, so only a few weeks later I was able to stand out at the office.
Photos: Giphy